Tensions grow between India and Pakistan
Jan 10, 2013- Tensions mount between India and Pakistan, following two deadly incidents over the Line of Control dividing the region of Kashmir. People in India have staged a protest, while the government summoned a Pakistani diplomat.
An Indian Border Security Force soldier patrols on a vehicle at the India-Pakistan
international border at Suchetgarh, some 32 kilometers (20 miles) from Jammu, on January 9, 2013.
The Indian government summoned Pakistan's top diplomat in New Delhi on Wednesday, to formally complain about an attack on an Indian army patrol that killed two soldiers in the disputed region of Kashmir.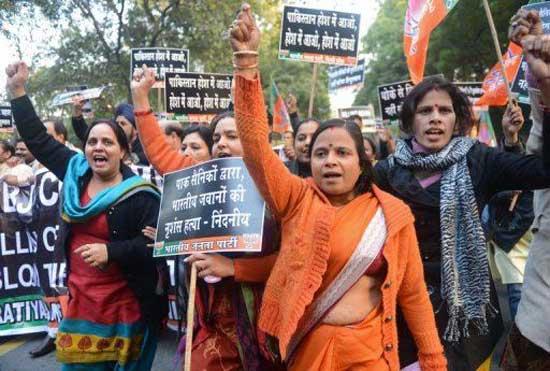 Activists from India's main opposition Bharatiya Janata Party shout slogans during a protest march to the Pakistani embassy, decrying the killing of two Indian soldiers, in New Delhi on January 9, 2012.
Indian foreign minister Salman Khurshid said, "Our intent is being conveyed very clearly, our anxiety has been conveyed very clearly. Now, we would expect an appropriate response from that side. I can once again repeat that this is completely unacceptable. At the same time, I think it is very important that we make sure that whatever has happened may not, should not be escalated. We cannot and must not allow for an escalation of a very unwholesome event that has taken place and I hope that message has gone home."
On the same day, members of the Indian opposition Bharatiya Janata Party staged a protest in New Delhi to condemn the alleged attack.
BJP member said, "This struggle has to move forward and we should give a proper reply. Pakistan has to realize that if they attack India, they will have to pay for it."
As the discontent grows across India, Pakistan says it is ready to investigate India's claim.
In a statement, the Pakistani Foreign Ministry said Pakistan strongly rejected the Indian allegation of an attack across the LoC on its military patrol. But it also said Pakistan welcomed a UN investigation.
Senior Pakistan and Indian military officials also spoke on the phone to discuss the incident.
The alleged attack on Indian soldiers follows the accusation from Pakistan of India transgressing the LoC in Kashmir and killing one Pakistani soldier.
New Delhi and Islamabad in 2003 agreed on a ceasefire along the International Border and Line of Control in Kashmir.
Violations have been reported on both sides, but the ceasefire remains in effect.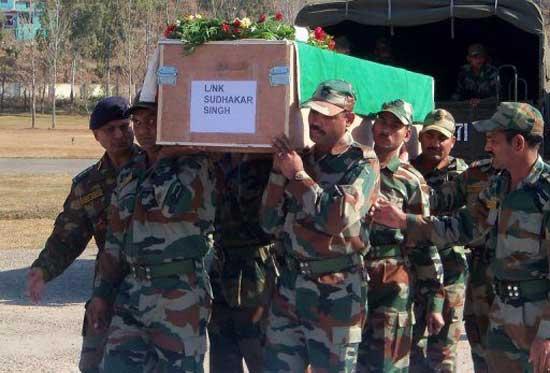 Indian army personnel carry the coffin of soldier Lance Naik Sudhakar Singh at Rajouri, some 148 kms from Jammu, on January 9, 2013.
CNTV