Psy turns into a "Gentleman"
(
CNTV
) South Korean rapper Psy has launched the dance and video of his new song "Gentleman" at a packed Seoul concert. And nearly 160-thousand tuned in on the internet on Saturday to see if he could carry off a repeat of his megahit "Gangnam Style".
South Korean rapper Psy has launched the dance and video of his new song "Gentleman" at a
packed Seoul concert.
"Gangnam Style" is the most watched video ever on YouTube, with more than one-and-a-half billion hits. Its horse-riding dance has been imitated by thousands around the world, from Eton schoolboys to UN Secretary-General Ban Ki-moon.
But a recent challenge from the "Harlem Shake" has upped the ante for Psy's newest release, "Gentleman".
The refrain is "I'm a mother father gentleman." The video features a fast, hip-swinging dance by Psy in his trademark sunglasses and a variety of jackets, from baby blue to hot pink and sparkly white.
Fans packed the 50,000 seats at Seoul's World Cup Stadium, many of them dressed in white at Psy's request. The concert was also live streamed on the internet.
"Gentleman", released on Friday at midnight, had more than 1.2 million hits on YouTube before the concert. It was 90th on the Apple iTunes store chart.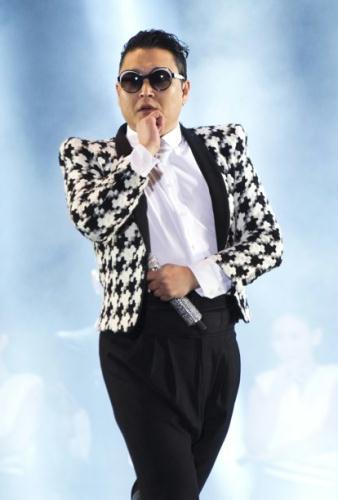 South Korean rapper Psy performs "Gentleman" during his
concert "Happening" in Seoul April 13, 2013.
Mark Mckeon, US fan from Michigan, said, "It was really good and it was really funny. It is hard to compare with classic though. I mean "Gangnam Style" is perfect. This one is really good. It is really funny and it is great experience being here at the concert for the release with the energy and the lights, and the noise, and it's phenomenal."
Psy, whose real name is Park Jae-sang, graduated from the Berklee College of Music in the US. He had a rocky decade in show business before "Gangnam Style" rocketed him to global fame.
Psy's brash style contrasts sharply with the polished stars that dominate K-pop.
"Gangnam Style" racked up digital sales of 3.59 million in the US and Canada last year, ninth on the best-selling list. It was third on Amazon's MP3 song bestseller list for 2012.
But it's been challenged by "Harlem Shake". The electronic dance track by DJ Baauer went viral as a YouTube craze after Australian teenagers posted their version of the dance, sparking thousands of imitations.
CNTV