China deploys largest-ever single military force
China and Russia have begun their largest ever joint naval exercise in the Sea of Japan. It's the Chinese navy's single biggest deployment of military force in any joint foreign exercise.
The Chinese Navy has dispatched four guided missile destroyers, two guided missile frigates, a supply ship, and three ship-borne helicopters. There are nineteen warships and more than 10 aircraft and helicopters taking part in the maneuvers. China's national defense ministry says the drills are not targeted at any third party, and the aim is to deepen cooperation between the two militaries.
The two navies will practice recapturing ships seized by pirates and search-and-rescue operations. There will also be a number of air defense, anti-submarine and anti-ship exercises. Operation "Joint Sea-2013" will run through to July 12th. Russia and China have regularly held joint naval drills since 2005, under the framework of the Shanghai Cooperation Organization.
Destroyer Shenyang (R) of the Chinese People's Liberation Army (PLA) Navy is anchored in Vladivostok, Russia, July 5, 2013. Chinese fleet consisting of seven naval vessels arrived in Vladivostok on Friday to participate in Sino-Russian joint naval drills scheduled for July 5 to 12 at the sea area and airspace of the Peter the Great Gulf in the Sea of Japan. (Xinhua/Wang Jingguo)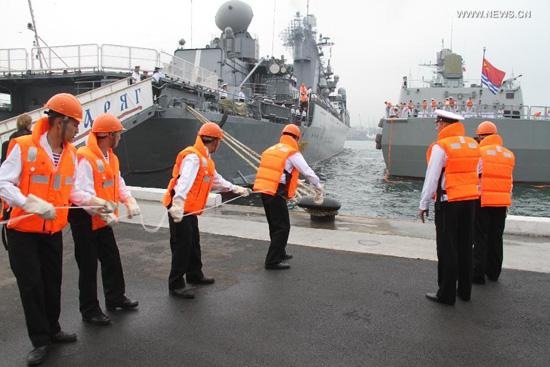 Destroyer Shenyang (R) of the Chinese People's Liberation Army (PLA) Navy is
anchored in Vladivostok, Russia, July 5, 2013. Chinese fleet consisting of
seven naval vessels arrived in Vladivostok on Friday to participate in
Sino-Russian joint naval drills scheduled for July 5 to 12 at the sea area
and airspace of the Peter the Great Gulf in the Sea of Japan. (Xinhua/Wang Jingguo)
CCTV
NATO chief downplays reports of US spying in Brussels
-- Stars and Stripes
U.S. spy agency NSA hit with furloughs starting next week
-- Reuters
France 'runs vast electronic spying operation using NSA-style methods'
-- The Guardian
Britain's Army reserves to become cyber security and intelligence specialists - and receive more benefits
-- The Independent
Flabby hackers, we want you: Britain eases physical standards for military 'cyber-reservists'
-- AP
Preparing for cyberwarfare
-- Michael Richardson, Japan Times
Russia to Lay Down 3rd Yasen Class Nuclear Sub on July 26
-- RIA Novosti
Russian Air Force to Get Su-30SM Fighter Jets in Bulk
-- RIA Novosti
Russian Defense Minister Wants More Spending on R&D Units
-- RIA Novosti
Coming Soon: India's First Indigenous Aircraft Carrier
-- Zachary Keck, The Diplomat
Orbital Blockade Imposed On Iran
-- Strategy Page
Iran upgrades missile defense system
-- UPI
Mexican generals accused of ties with drug cartel set free
-- Reuters
Russia offering Su-30s to Ethiopia
-- Defence Web
Philippines To Buy 2 Maestrale Frigates From Italy
-- Defense News/AFP
Chinese Navy Ships Arrive in Russian Far East for Drills
-- RIA Novosti
US Navy Boosts Arabian Gulf Patrol Craft Force
-- Defense News
Positive trends greet Navy's Asia deployments, but tensions at sea remain
-- Stars and Stripes
Laser Could be New Eyes of the Military
-- Military.com/NewsRx.com
Army IT Deal Tops $45 Billion in June Awards
-- DoD Buzz
Military Sonar May Hurt Blue Whales
-- Live Science
Grieving parents sue for answers from Air Force
-- Air Force Times
Brace for similar sequester impact in 2014, Greenert says
-- Stars and Stripes/Virginia Pilot
National Guard soldiers, airmen to be furloughed
-- AP
Squeezing the Pentagon: The wrong way to cut America's military budget
-- The Economist
In the 1970s, the U.S. military struggled with morale
-- Jim Michaels, USA TODAY